My first simple free lampwork tutorial is up on Youtube.com. The Robot bead would be nice bead for Beads of Courage program.
http://www.youtube.com/watch?v=Z_-rZzEpDmw
By the way, did you know when word Robot was first used?  It was in 1920  when Czech writer Karel Capek used it in his play named  RUR.The verb "robotovat" have been around since 10th centure and it means to work hard  in Czech and Slovak languages.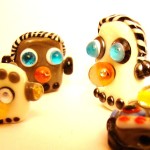 Happy Melting!!!